One of the things that makes the Electric Palace such a great place to visit is our fabulous, dedicated staff and volunteers.
So, who are the people who welcome you at the cinema? Find out in our Meet the Volunteers series...this time, meet Electric Palace co-founder and director.
Name: Rebecca Marshall

What prompted you to start the cinema?
I love the big screen and the way people settle down to hear stories in a cinema. I was born in Hastings, and when I returned after uni, I wanted to see more films than the offerings from the Odeon, which at that time was the only local cinema.
I'd been screening films with a projector for friends at home, and making short films of my own - so in 2001, myself, Rachel Pearson and a small crew decided to put on a weekend film festival called 'Shot by The Sea.' This took place at the end of Hastings' Pier, screening some locally made short films, and Derek Jarman's 'The Last of England' (which rather shocked my Gran who came along for support!).
The following year we were looking around for venues to host the next film festival and we rented the unfurnished hall in the Old Town. We equipped it with a projector, screen and seats and never looked back!
How long have you worked at the cinema?
The Electric Palace opened in October 2002.
What's your favourite thing about the cinema?
Watching films with other people and the feeling it gives you. It's a primitive experience, with everyone's faces turned up towards the flickering lights of the big screen – it's exciting.
What special perk do you love about running the Electric Palace?
A special perk for me is being able to come in privately with friends on a rainy afternoon to have fish and chips and watch a film. But also I love running public screenings and feeling the atmosphere. It's a marvellous thing to be part of making happen. I also love finding out about new films and feeling excited about the prospect of screening them at the EP – 'Honeyland' was great last year with Katharine O'Brien of Bee Potion giving free local honey tastings. It felt a good healing touch for the middle of 2020.
Tell us about an experience at the cinema (not necessarily from the Electric Palace).
I went to see 'Mad Max, Fury Road' in the daytime at the IMAX in London with my baby hidden under my coat. It was LOUD but he slept right through it, and the film's adrenaline-driving brilliance was wild after feeling couped up with a new born for two months! WITNESS ME!!!
What film would you like to watch at the cinema?
I'm looking forward to seeing the American director Kelly Reichardt's latest film 'First Cow' which we can hopefully programme later in the year. I really enjoyed her earlier film 'Old Joy' (with a great soundtrack by Yo La Tengo), which has been described as 'slow cinema' because it gives you time to look and think. Her timing is immaculate because she moves on before it gets too ponderous, but you get to see all sorts of beautiful details.
Staff at the Electric Palace sometimes see movies they may not have planned to watch, occasionally outside of their comfort zone or usual taste. Tell us about a film you saw at the Electric Palace that took you by surprise.
I can't stop thinking about 'Capernaum' by Lebanese director Nadine Labaki, which I first saw in 2019. I wasn't sure what to expect from this film as it had really mixed reviews. It's a story about a young boy who sues his parents for giving birth to him in poverty in Beirut, but in the end it's about love and humanity. The unprofessional child actors totally took me by surprise - how Labaki drew out these tender yet brutal performances was masterful. I put it on at the EP as my staff pick.
If you could go on a date night at the cinema with anyone living, dead or fictional who would it be and what would you watch?
Can I have a date with Jacques Cousteau please? We could laugh and argue. What an inspiring dreamer! As a child he dreamt of flying planes, but in his mid-20s he had a massive car crash and took up swimming as part of his recovery. Amongst his subsequent undersea adventures, he invented an underwater flying saucer ('La Soucoupe') and named it Denise. Together we would watch Werner Herzog's 'Encounters at the End of The World', because it would maybe make even the terrible Jacques himself tremble at the strange beauty of life at the South Pole.
Tell us about favourite film of yours.
Agnes Varda's 'The Gleaners and I' (Les Glaneurs et la Glaneuse) is one of my favourite films. Watching Varda makes me feel like I've found a new friend; she turns ideas of filmmaking on its head and brings the world to life in a new way. In this film she finds seemingly random stories about scavenging whilst undertaking a road trip tour through the French countryside, and ties all sorts of rich thoughts together about living life with humour and presence.
But I still get an instant hit from watching the scene of 'Wild at Heart' where they dance on the roadside – especially after the year we've just had.
Tell us a good film to watch that makes you laugh out loud or blub your eyes out.
Charlie Chaplin's 'The Gold Rush'. Chaplin plays a tramp prospecting for gold in Alaska, and the comedy is so bitter sweet. There is a particular scene near the end where he gets so excited at the prospect of having guests for dinner in his lonely cabin, that he smashes up a pillow and the feathers explode everywhere; I couldn't stop laughing until I was almost weeping. I'll put it on when we reopen – you can see it online, but you've got to come and see it in company on a big screen for full immersion!
Do you have a memory to share about a great film night at the cinema?
Years ago we held a series of Camp Cabaret events, hosted by the magnificent Linda King and the fabulous Alastair Fairley. When we screened 'Calamity Jane', we all sang along at top volume with the music playing so loudly that we blew the speakers! That was FUN!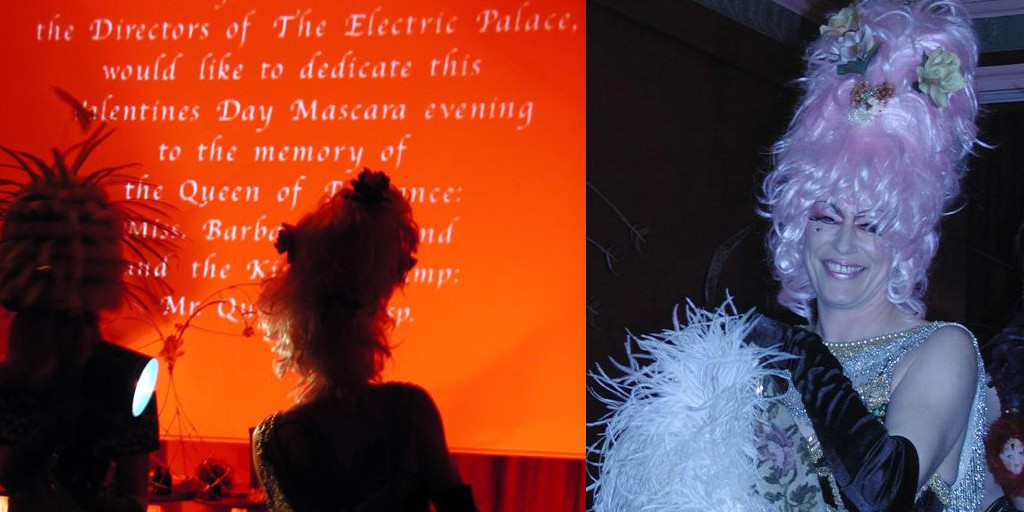 At the Electric Palace as well as our programme of new films we also have other stuff; special film showings like Cinema Plus, B Movie nights and events such as comedy, music, theatre, quiz nights etc. Tell us about one you like or liked and why.
I always get so moved by local filmmaker Glenn Veness's annual film nights – I can't help but get emotional seeing all the faces of our community from across the thirty-odd years that he's been out and about filming. His screenings offer an element of original cinema, like the Lumière brothers' first filming tours where people came to see images of themselves and each other.
Glenn shows recent celebrations as well as people we have loved and lost, so it becomes a communal remembering. I always leave his nights feeling full of deep love and appreciation for living each day as it comes. He films people and captures ordinary moments in such a special way. It's a real talent.
What's a great soundtrack you listen to?
The soundtrack to 'Wild at Heart' is an old favourite. Nicholas Cage singing Elvis' 'Love Me' to Laura Dern with a background of screaming metal heads is ridiculously the best!
What's your favourite snack or drink at the cinema?
Salt and vinegar pringles (apparently one of the unhealthiest foods on the planet) with Prosecco to wash 'em down. But Real Hummus Chips are a close second. Pudding is a small bar of Divine caramel dark chocolate.
What's your favourite seat?
Second row from the back on the right-hand side as you face the screen.
Finally, tell us something unusual about yourself.
I had to use a breast pump whilst filming in the Siberian Forest, and twice a day I gave the milk in a dish to wild kittens.