Save The Electric Palace Cinema!
During Covid, our wonderful community helped raise funds to help the cinema continue through the toughest of times.
Independent cinemas around the country, the Electric Palace included, are still in need of regular support. You can help make sure our much-loved venue can continue throughout 2023 and beyond.
Please support us by contributing what you can either as a one-off donation or a regular contribution:
Donate to the Electric Palace >>
Become a Friend of the Electric Palace
Another way you can suport us is to join our Friends of the Cinema scheme for £10 per month. As a friend of the cinema, you have the following perks:
A free drink at every screening you attend
Seat reservation
An annual Friends of the Cinema Champagne Party
An annual prize draw for a free venue hire for you and your loved ones.
An Electric Palace tote bag
Join now, and we'll provide you with your Friends of the Cinema Card!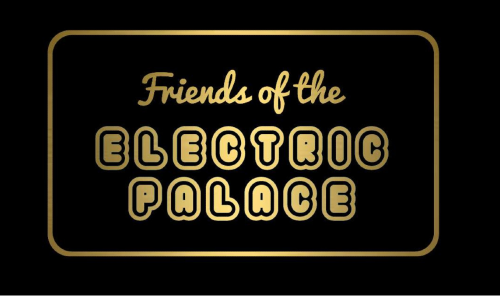 History of The Electric Palace
Founded in 2002
We began in 2002 with an empty white room, a pot of red paint, basic equipment, rather uncomfortable chairs and the tireless help and enthusiasm of friends, family and volunteers. Eighteen years later our facilities include a top quality Film Council-funded projector, professional lighting and sound, a small but perfectly formed licensed bar and air conditioning.
Most striking when you enter the cinema are our iconic 1930s golden velvet seats thanks entirely to our volunteers and our loyal audience after a bustling memorabilia sale and seat sponsorship scheme.
We asked our regulars, volunteers, friends and supporters of the cinema to share their treasured memories of their experiences at the Electric Palace over the years. Take a look (view in full screen or download from SlideShare):
Teamwork
We are a not for profit 'Community Interest Company.' Our running costs rely on ticket sales and bar profits. Whilst five part-time staff do the work of programming, managing and marketing, a team of 30 dedicated volunteers host our events. The volunteers look after the audience and take an active part in bringing new events, new expertise and ideas to the cinema.

This way of operating honed over 20 years is vitally important because it enables a valuable seam of communication between our volunteers and audiences. We encourage a good chat after the films so you can share your likes and dislikes! This supports our ability to deliver an exciting range of films and events.
A rich and varied programme
Many people mention one of the things they love about the Electric Palace is our programming. As well as drawing from suggestions from our volunteers and audience, we attend film events and conduct research to achieve a broad spectrum of films and events that will delight, entertain and challenge our audience. Our pick of independent, art house, world cinema, classic and local filmmakers' films, work alongside a programme of live music, comedy, theatre and club events.
Our intimate venue is perfect for friendly, upfront Q&As and live introductions, offering fascinating insight into films and filmmakers - look out for our 'Cinema Plus' strand of events.
In 2016 we even won an award for 'Best Programming of the Year' at the Cinema For All Film Society of the Year Awards.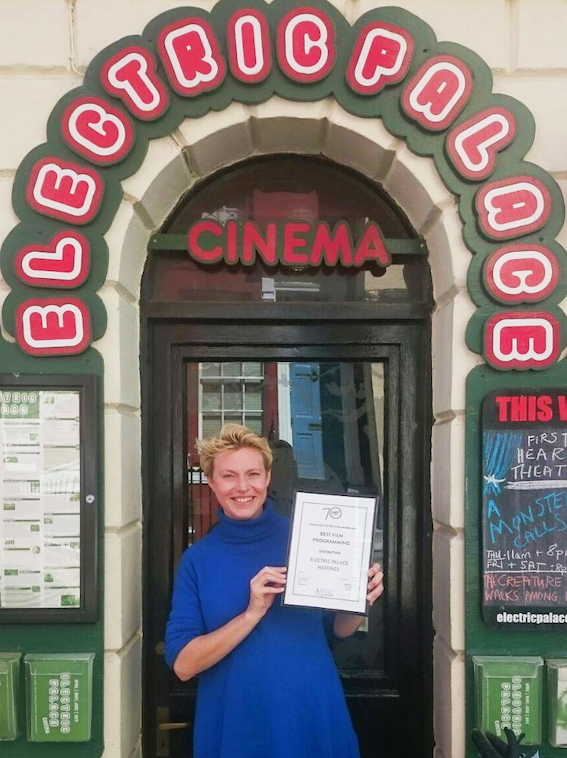 Hastings' film and cultural scene
We are particularly proud that for more than 20 years The Electric Palace Cinema has played a huge role in providing a platform not only for filmmakers in Hastings to screen their work and gain audience feedback, but also for political and social debate around a wide range of issues from climate change to women's rights, using films and documentaries as starting points.
The cinema plugs into Hastings' annual cultural and community calendar. We are a venue that takes part in Coastal Currents Arts Festival, Jack in The Green celebrations, Old Town Week and Fat Tuesday events, plus many more. We are always pleased to join in local initiatives.
These are some projects we have collaborated with, nurtured and produced over the years:
Ongoing projects
Past Projects
Shot by the Sea Festival of Film and Moving Image 2001-2009
Hidden Connections archive film project about Hastings Lido and the seafront
Rural Screenings: Taking film screenings to rural villages and community centres throughout East Sussex and Rother.
Open-air screenings in Hastings' Alexandra Park in collaboration with Eat@ Café
Starlight Screenings: open air film festival with a live lasers at Herstmonceaux Castle
Host of The 24hr Film Challenge
Hidden Hearts postcard fundraiser for the cinema
Saturday morning pictures: kids screenings and workshops
Shoot & Edit: training and equipment hire
Projection Space: a quarterly night for filmmakers to show new work and work in progress
WW1 season curated by our weekly Silver Screenings host Paul Sargent


Keep in touch
Stay updated about our activities, mail your suggestions and ideas to info@electricpalacecinema.com or let us know via Facebook or Twitter.
Sign up to our enewsletter and encourage others to do the same: