One of the things that makes the Electric Palace such a great place to visit is our fabulous, dedicated volunteer team.
So, who are the people who welcome you when you head up the stairs to the cinema? Find out in our Meet the Staff and Volunteers series...
Name: Annie Waite

What prompted you to volunteer/work at the cinema?
I'd been to the 'Day of the Triffids' game in the Old Town and met co-founder Rachel at that, as the Electric Palace was doing some projections around Wellesley Court as part of the game.
I started volunteering at the cinema and after a few months I applied for a part-time role at the cinema. Its co-founders Rebecca and Rachel created the marketing position to fit my background in journalism and editing, and the needs of the cinema at the time. I've been part-time Marketing Manager at the cinema ever since, for the past eight years.
What's your favourite thing about the cinema?
Its programming, and open-minded and friendly atmosphere. Plus, the listings chalkboard outside the cinema, of course!
What special perk do love as a volunteer at the Electric Palace?
Being able to host special events for family and friends when the opportunity arises - birthday parties, surprise screenings, a screening for my rock 'n' roll book group.
Tell us about an experience at the cinema (not necessarily from at the Electric Palace).
Seeing Monos at the lovely Curzon cinema in Eastbourne fairly recently. I wanted to visit the cinema one last time before it closed. It was absolutely freezing but I stuck it out as the film was so engaging.
Ogling John Cusack at Chicago Film Festival when I lived out there in 2007.
At the Electric Palace there was the time when we were just about to start the sold out 'George and Thom' film quiz night and then all of a sudden the pavement just outside the front door started smoking and there was a loud bang (turns out the whole of that side of the street had had a power outage). So - everybody out! Luckily, the kind folk at the Jenny Lind pub opposite saved the night by providing us with their upstairs room for the evening, and we all had a great time.
What film would you like to watch at the cinema?
Almost Famous. When I first saw it I felt like I had stumbled upon (parts of!) my own biopic or something, as I also used to interview and write about bands at a young age and ended up in some unusual, unexpected situations similar to the protagonist in the film. Philip Seymour Hoffman as music journalist Lester Bangs cracks me up. And the soundtrack is also cracking, too.
I would like to see Burt Lancaster's The Swimmer there, too.
Have you ever gone to see a movie and wanted to watch it again immediately?
Werner Herzog's Encounters at the End of the World, about the residents of the McMurdo Station in Antarctica. I saw it at the Renoir cinema (now Curzon Bloomsbury) in London and was entranced, and the Bulgarian throat singers as the main soundtrack was so atmospheric. I raved about it for months at anyone I saw.
Going a bit lower brow... The Fugitive. I saw it at least three times in the cinema when it first came out. And I must have seen it probably about 30 times since. Just a great, straightforward thriller.
Volunteers at the Electric Palace sometimes see movies they may not have planned to watch, occasionally outside of their comfort zone or usual taste. Tell us about a film you saw at the Electric Palace that took you by surprise.
Julien Temple's London: A Modern Babylon documentary. It is a swirling, educational feast for the brain and all the senses.
If you could go on a date night at the cinema with anyone living, dead or fictional who would it be and what would you watch?
I'm sure I can come up with a better answer another time, but to be true to my 12 year old self, ahm... Kevin Costner or William Shatner!
Tell us a good film to watch that makes you laugh out loud or blub your eyes out.
Laugh out loud: Christopher Guest generally hits the spot - his film A Mighty Wind, in particular. This parody of the folk music scene in the US is pristine and features the sadly recently departed Fred Willard. I arranged our screening of A Mighty Wind as part of Hastings Folk Festival one year, with a mini beer festival as part of it. It was a lovely evening, and such an hilarious film.
Blub: My Girl. Every time. Don't mess with the beehive, Macaulay!
Do you have a memory to share about a great film night at the cinema?
Talking Heads' Stop Making Sense at the first of our annual Summer Music Season events. I rarely get up the courage to dance, but with this film you just can't help it (and the Long Blonde beer probably helped). We were bopping in the aisles and it was a hoot.
Seeing Wes Anderson's The Life Aquatic with Steve Zissou on a summer rooftop screening at the De La Warr Pavilion was also rather lovely. I enjoy the film and all its quirks and associated merchandise. I even had a Life Aquatic babygro for my son.
At the Electric Palace as well as our programme of new films we also have other stuff such as comedy, music, theatre, quiz nights and so on. Tell us about one you enjoyed and why.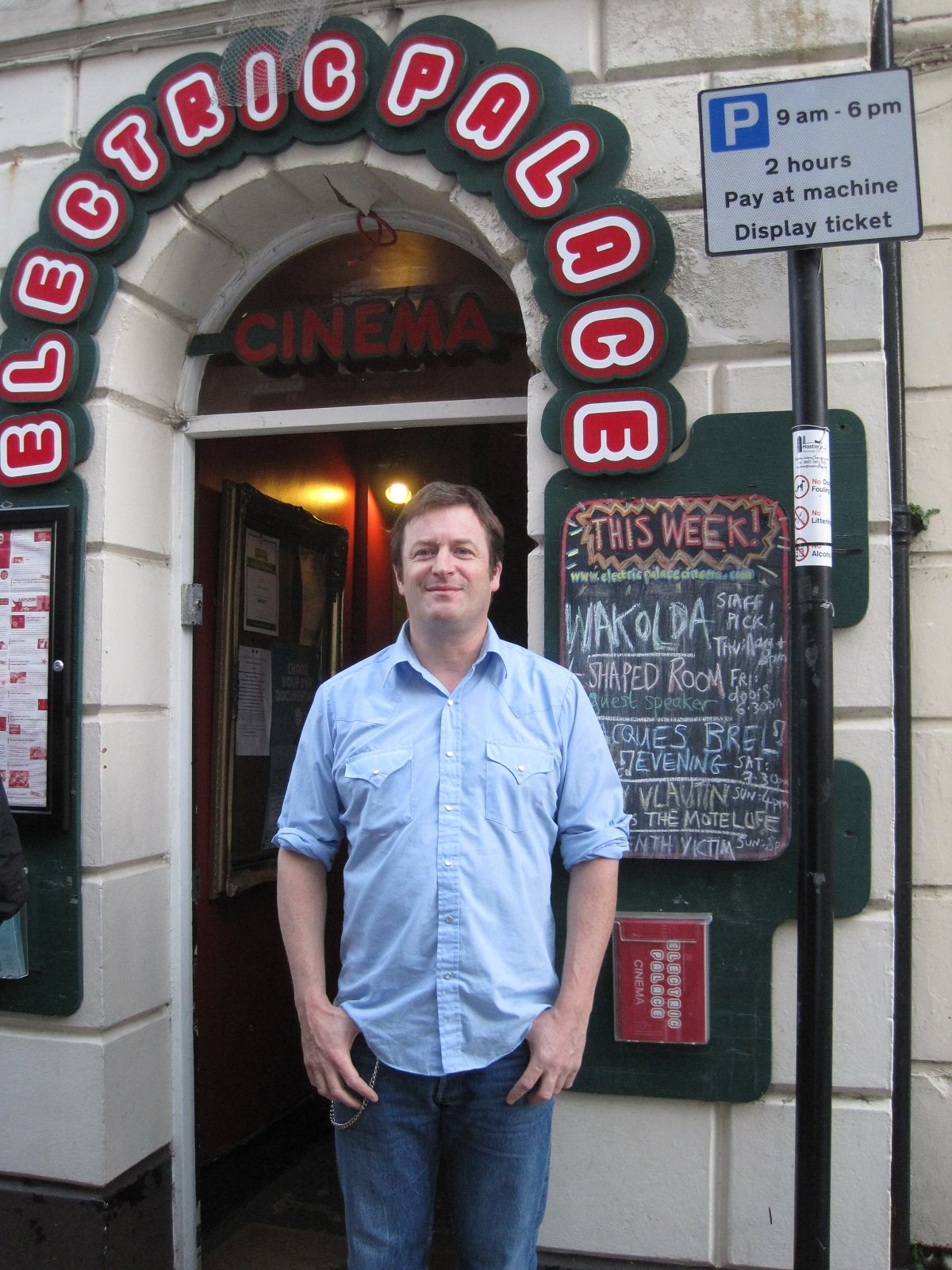 So many. It's hard to choose. But for me personally, I asked the US author and musician Willy Vlautin to come and take part in a Q&A introduction to the film adaptation of his first novel The Motel Life, and he agreed (see more pictures). I was thrilled! It coincided with his excellent current band The Delines' appearance playing live at the De La Warr Pavilion in Bexhill that evening, so I drove him there afterwards, trying not to swoon and keep it together!
One of the few times the ridiculous and energetic comedian Phil Kay graced us with his presence was an absolutely howling evening. Tears of joy and pain - of laughing so much.
Do you have a hot tip to share for where you get your film news?
Radio 4's The Film Programme, Bigmouth podcast, and my friend Pamela Hutchinson, who writes for Sight and Sound.
What's a great soundtrack you listen to?
I'm a sucker for Cameron Crowe film soundtracks. Elizabethtown, Vanilla Sky, Almost Famous. Also I like the soundtrack to Face, a good crime thriller from the late '90s, as it has my beloved Gene band on it.
Shane Meadows films always have great soundtracks, too.
What's your favourite snack or drink at the cinema?
Long Blonde ale. And a controversial cinema choice: popcorn.
What's your favourite seat?
Anywhere near a radiator - I'm always cold and have never been a fan of aircon (sorry!).
Finally, share something unusual about yourself.
I ate Johnny Depp's birthday cake, and watched Bill Murray jump out of a plane - both in Chicago. I've eaten lunch with F1 racing driver Takuma Sato, trying to pretend the toilet of the hospitality bus we were on at the time hadn't really just exploded (it had)... I had a song named "in my honour" by my favourite band.