Join us for our revived Book to Film Club.
See excellent film adaptations of inspirational books and discuss your thoughts and opinions on both in a friendly and open discussion forum after the screening.
The series will begin with six films, screened monthly.
Our 'Book to Film Club' launched with a screening of A Girl Walks Home Alone At Night on Thursday 29 July 2021, followed later in August by Lucrecia Martel's Zama. Screenings start at 7.30pm, and are followed by a discussion of the book and its film adaptation.
This film will be followed by regular screenings chaired and hosted by film expert Natalia Christofoletti Barrenha, one of the Electric Palace's film programmers.
You're invited to send in your suggestions for films to show as part of the club, so do contact us with your ideas.
Note: You can still come along to enjoy the films and the group without having read the books in advance!
Screenings and club events coming up:
Ammonite
Thursday 28 October, 7.30pm
Francis Lee, 120 Mins / 2020 / UK
Starring Kate Winslet and Saoirse Ronan.
In 1840s England, acclaimed but overlooked fossil hunter Mary Anning (Kate Winslet) works alone on the rugged Southern coastline. With the days of her famed discoveries behind her, she now searches for common fossils to sell to tourists to support herself and her ailing mother. When a wealthy visitor entrusts Mary with the care of his wife Charlotte Murchison (Saoirse Ronan), she cannot afford to turn his offer down.
Proud and relentlessly passionate about her work, Mary initially clashes with her unwelcome guest, but despite the distance between their social class and personalities, an intense bond begins to develop, compelling the two women to determine the true nature of their relationship.
Ammonite's original screenplay by the director Francis Lee is a fictionalisation of Anning's life, as in the book 'Remarkable Creatures', by Tracy Chevalier, published in 2009. Also in 2009, the journalist Shelley Emling published a biography of Anning titled 'The Fossil Hunter: Dinosaurs, Evolution, and the Woman Whose Discoveries Change the World'.
Although the materials have no direct relation, the idea of October Book to Film Club is to put them in dialogue and discuss the many ways different artworks (whether they are fictional or documentary) depict the life of such an exceptional woman.
We The Animals
Thursday 25 November, 7.30pm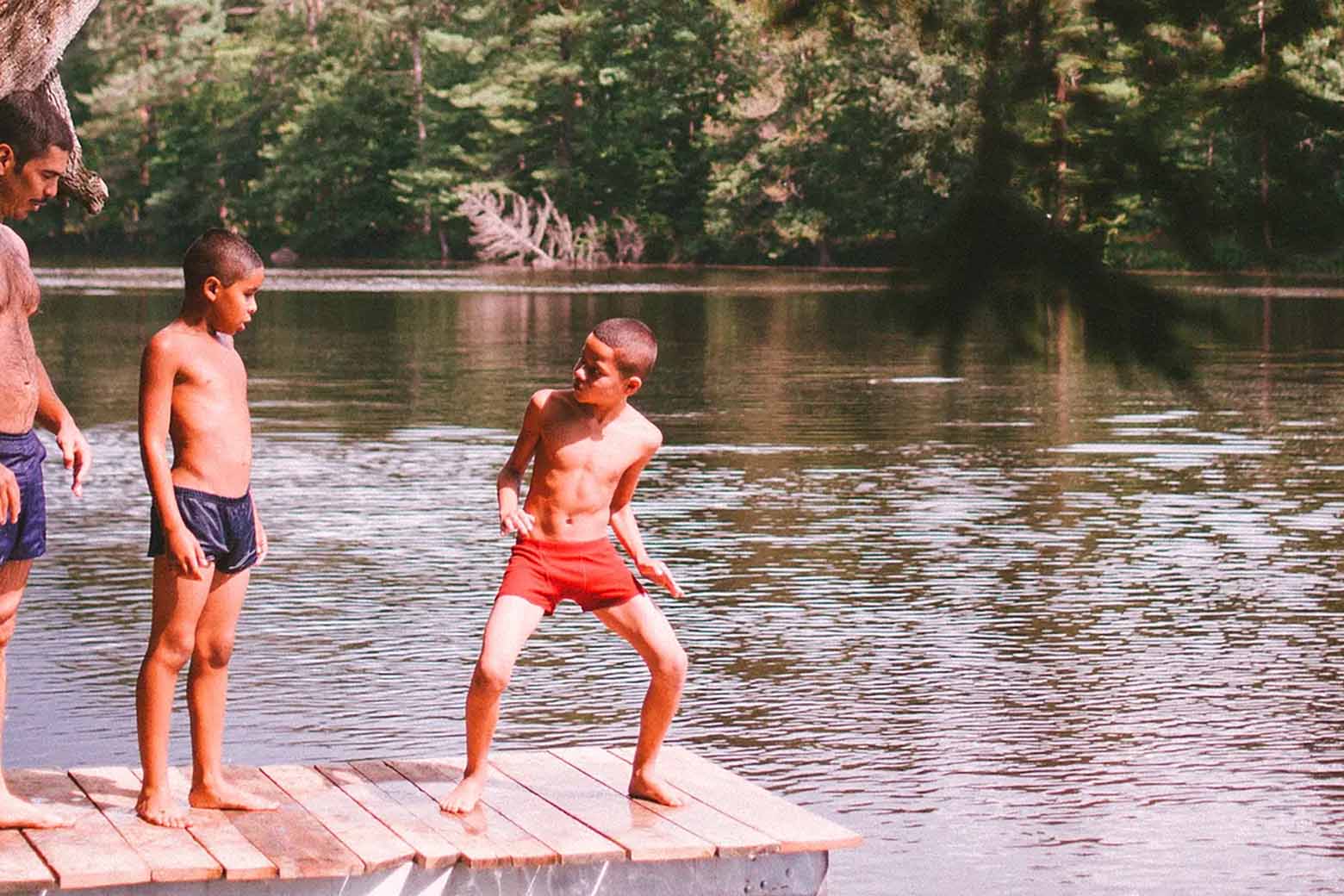 Jeremiah Zagar, 94 Mins / 2018 / USA
Premiered at Sundance Film Festival, We The Animals is a lyrical portrait of a sensitive young boy named Jonah told from his point of view.

Shot on 16mm and beautifully photographed, the film captures that hyper-awareness of everything around the protagonist, which includes a series of animated sequences that jump from the sketches that he spends his nights scribbling in notebooks under the bed he shares with his older brothers Joel and Manny  (all the boys are impressive and captivating first-time actors). Life in Jonah's household is fierce and absorbing, full of chaos and heartbreak, but also love and music.

We The Animals is adapted from Justin Torres's semi-autobiographical best-selling novel We The Animals about growing up in a hardscrabble working-class family in upstate New York in the 1980s. It taps into a childlike nostalgia whilst seamlessly integrating a range of complex issues such as sexuality, social class division, broken families and racial inequality through a mesmerising and dream-like narrative.

"There is a diaphanous beauty to this striking US indie; an impressionistic, free-spirited, skittish quality that belies the weight of the themes that it explores." - The Guardian
Book now for We The Animals >>
About your host, Natalia

Natalia Christofoletti Barrenha is a film researcher and programmer who specialises in Latin American cinema. Her favourite directors in this field are Ana Katz, Juliana Rojas, Luis Ospina, and especially Lucrecia Martel, "because of her sharp look at small gestures of power within intimate spaces, and the sensitive quality of her cinema," says Natalia.
Natalia moved to St Leonards in mid-2020 when the Covid pandemic slowed down for some months.
"As a film lover, when moving to a new place, one of the first things I do is take a look at the local cinema," says Natalia. And then she discovered the Electric Palace. "The cinema was closed then, but I wrote to the director Rebecca who kindly showed me the lovely venue and we had an exciting talk."
Natalia proposed to bring more films from Latin America into the Electric Palace programme. "I was thrilled by how the team welcomed my idea!"
So, now Natalia is one of our film programmers.
Although she cites Danish director Carl Theodor Dreyer among her favourite filmmakers, Natalia also laughs like a drain at Superbad!
About Natalia's publications and film work
Natalia is the author of two books about Latin American cinema, and is co-editing a volume on directors including Lucrecia Martel's for Edinburgh University Press, which will be published just next year. Find out more about Natalia's publications.

She has worked with film festivals such as the BAFICI - Buenos Aires Festival Internacional de Cine Independiente, London Indian Film Festival and São Paulo International Short Film Festival, among others, and has organised several film cycles with her production company Buena Onda Produções.
Natalia holds a doctoral degree in Multimedia from the Universidade Estadual de Campinas – UNICAMP (Brazil), and conducted postdoctoral research at the UNICAMP Institute of Language Studies, with a short period as Coimbra Group Visiting Fellow at the KU Leuven (Belgium). She is currently a Visiting Researcher at the Univerzita Komenského v Bratislave.
We hope you enjoy meeting Natalia and learning all about the films she holds dear and the reasons why.
Keep up to date with the cinema's latest news and listings in our enewsletter: