Includes Q&A with the director
Concrete Plans
Tempers fray and blood is spilled when events spin out of control after a gang of builders doing a farmhouse renovation are ripped off by the aristocratic owner...
Director:
Will Jewell
Cast includes:
Amber Rose Revah, Steve Speirs, Goran Bogdan
Includes Q&A with the director
91 Mins / 2020 / UK
*Please read our important information about our Covid-19 safety precautions before visiting.*
This film swept the boards at the Seattle Film Festival in July 2021, winning five prizes including the Grand Jury Best Film award!
A visceral snapshot of the United Kingdom – tense, divided and balanced on a knife-edge. Topics such as migrant labour, class tension, tax evasion and toxic masculinity are woven into a taut Neo Western Thriller that grips and twists towards a devastating climax.
High in the remote Welsh mountains five builders are housed in a mouldy portacabin; thrown together to renovate a sprawling old farmhouse. Tensions soon simmer between the men and the self- entitled aristocratic homeowner, as well as amongst the rag tag group of men themselves. Bob, the kindly foreman, attempts to keep the peace as the bigoted Jim becomes a malign influence, taking a dislike to Ukranian labourer Viktor and slowly poisoning Bob's own nephew against him.
As the weather closes in and payments are late, tempers fray. Blood is spilled. As the blue-collar men are confronted with an increasingly dark spiral of moral choices, Jim - now de-facto leader - makes an astonishing proposition...
"One of the most exciting British thrillers in years" - 4 stars, The Hollywood News
"Uniformly excellent performances" - 4 stars, Electric Shadows
"A cracking crime thriller" - Review Avenue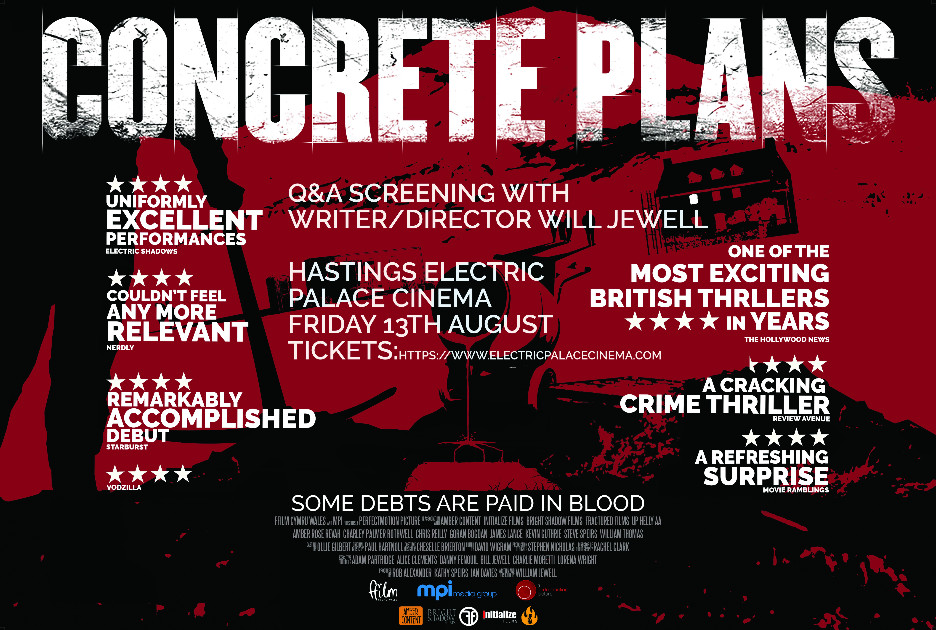 How you can support the Electric Palace:
Support us on social media by sharing our posts and events
Thank you.