One of the things that makes the Electric Palace such a great place to visit is our fabulous, dedicated volunteer team.
So, who are the people who welcome you when you head up the stairs to the cinema? Find out in our Meet the Volunteers series...
Name: Alaric Lester

What prompted you to volunteer at the cinema?
I had recently moved to St Leonards and wanted to get more involved in some local culture.
How long have you volunteered at the cinema?
Nearly five years.
What's your favourite thing about the cinema?
The gold seats. And my lovely co-workers.
What special perk do love as a volunteer at the Electric Palace?
Being able to have private screenings. Cycling is one of my passions. In winter I organise occasional film evenings for the Hastings & St Leonards Cycling Club. All films are bike-related and rather niche.
Tell us about an experience at the cinema (not necessarily from at the Electric Palace).
In the early '90s I worked at a fantastic cafe in Greenwich. For one Christmas party, the bosses hired out the Electric Cinema in Notting Hill for the night. We drank heavily and watched films until dawn - debauched paradise.
What film would you like to watch at the cinema?
Macbeth, but with the play in my pocket. I loved the film, but had forgotten so much of it and found the accents impenetrable at times.
Have you ever gone to see a movie and wanted to watch it again immediately?
Lots of times! Star Wars was the first, when I was five years old.
Volunteers at the Electric Palace sometimes see movies they may not have planned to watch, occasionally outside of their comfort zone or usual taste. Tell us about a film you saw at the Electric Palace that took you by surprise.
For All Mankind was extraordinary, with the Brian Eno soundtrack and the footage from the space landings.
If you could go on a date night at the cinema with anyone living, dead or fictional who would it be and what would you watch?
Let's go for Marlene Dietrich, to wonder at those cheekbones during the film and discuss some amazing life-stories afterwards (and the tantalising possibility of perhaps becoming one of her many lovers).
Tell us about a favourite film of yours.
Going with the cycling theme, A Sunday in Hell by Danish director Jørgen Leth. It follows the 1976 Paris-Roubaix cycle race. The race is infamous for its long sections of cobbled farm roads; Leth has a wonderful cinematic eye that captures the brutality of the race as well as telling the background stories.
At the Electric Palace as well as our programme of new films we also have other stuff; special event screenings, B Movie nights and events such as comedy, music, theatre, quiz nights. Can you share one you particularly enjoyed and why?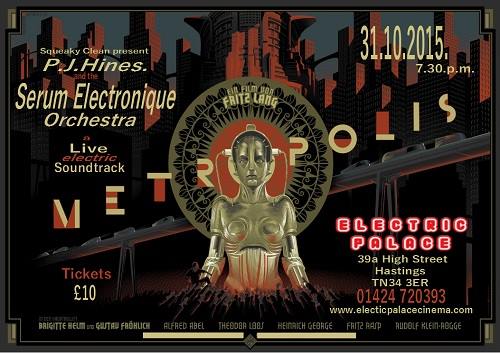 I saw Metropolis a few years ago with an extraordinary live soundtrack from PJ Hines. The modern syntho music set itself brilliantly against Fritz Lang's dystopian near-masterpiece. It was the most immersive cinematic experience EVER.
What's a great film soundtrack you listen to?
I adore the O Brother Where Art Thou soundtrack.
What's your favourite snack or drink at the cinema?
Mint tea and some nuts.
What's your favourite seat?
If I told you, everyone would want to sit there (ask me when I'm working at the cinema and you may find out).
Finally, tell us something unusual about yourself.
My children and I have more than 20 bicycles between us. How I fit them all in my flat I am not sure, especially as I am on the fourth floor.