If you don't know who legendary comedian Alasdair Beckett-King is yet, here are a few reasons why you should.
Alasdair has been a regular in Hastings for a number of years. He's enjoyed playing for the audiences of the Hastings Fringe Comedy Festival (which will return live to the Electric Palace in July 2021) and tried (unsuccessfully) to keep his golden locks dry as a filmmaker with our cinema director, Rebecca E Marshall, on Hastings' beach. More on that, below...
Featured on BBC radio as both a comedian and sketch writer, Alasdair has also recently enjoyed an explosion of followers on social media for his online series of short comedy films, honed during lockdown using technical expertise from his film degree.
Offering brilliantly-observed costumes by his partner Rachel Anne Smith, impeccable green-screen effects and on-point accents, his recent parody of Scandinavian crime dramas reached 2.7 million YouTube views.
Here we've picked our own two favourites, because they give us much needed belly laughs:
If Jaws (1975) were set in the North East of England:
Every Episode of Popular Space Show:
Alasdair's favourite Hastings memories
"I was nearly washed out to sea while filming the documentary Glitter and Storm and had to be rescued by the interviewee – which, I admit, is very unprofessional," says Alasdair.
Alasdair and Rebecca filming local filmmaker Andrew Kötting sea swimming for Glitter and Storm, with Aristotelis Maragkos recording sound: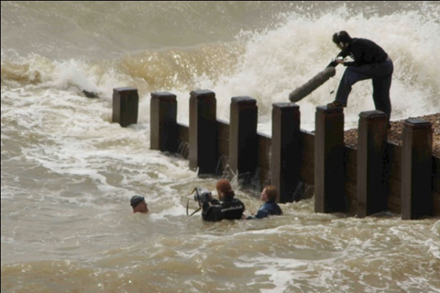 "During the filming of Rebecca E Marshall's fiction short Mightyman, I remember the sea fog rolling in and the Hastings seafront vanishing in a matter of minutes. I've never seen a fog come and go so quickly, and it was like being briefly transported to an alien planet."

Despite these traumas, Alasdair is looking forward to a return trip to the Electric Palace in the coming year:
"Comedy audiences in Hastings are, you will be pleased to know, more discerning than comedy audiences in Brighton. By that I mean that when Hastings audiences don't like a joke, they simply wait politely for the next one. They will not insult the comedian with polite laughter, and we respect that. The seagulls will absolutely murder an outdoor show, though."
We can't wait to welcome Alasdair back at the Electric Palace soon! You can support him via Ko-Fi.
Keep up to date with all our listing announcements and news in our weekly email: