With Covid-19 scuppering our immediate plans to screen Sam Mendes' 1917 film this coming week, instead we speak with war film archive specialist, and long-time volunteer with the Electric Palace, Paul Sargent, about his career immersed in historic film footage from wars beyond.
Can you explain how you came to become an expert archive film?
I became interested in film and history as interrelated subjects while at university.
Back then in the early 1970s film as a 'serious' subject - particularly as historical evidence - was not given much credence. However, views were gradually changing and with television series such as Thames TV's World at War, both public and academic interest in archive film gained momentum.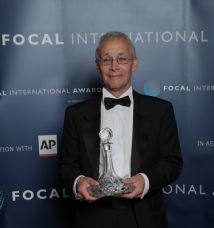 With my background and interests I was lucky enough to get a job as a Research Assistant in the Imperial War Museum's Film Archive, which over the years enabled me to develop my specialism in archive film and gain a wide working knowledge of the film and television industry. A few years ago I was awarded the Lifetime Achievement Award for my work in archive film (pictured).
Please share how you came to curate the war films season at the Electric Palace.
In 2014 I was encouraged by Rachel and Rebecca from the Electric Palace (and later others, especially volunteer Nick Johnson) to curate a season of films at the Electric Palace to commemorate the centenary of the start of the First World War.
My original intention was to screen perhaps six films over a period of six months, showing the fiction and ending with the actuality. Things didn't quite work out like that though – perhaps fortunately – as The Battle of the Somme (the 1916 film of events surrounding the actual battle) was withdrawn from public screenings by the Imperial War Museum and with which I had planned to end the season. I therefore focused entirely on the feature films, choosing films from various countries and from as many viewpoints as possible. What began as a six month programme continued for about 18 months.
I wanted not only to show films from different perspectives, but also the technological and creative changes in filmmaking over the years: from silent, to talkies, to wide-screen colour. Thus I began with Abel Gance's J'Accuse (1919) and ended with David Lean's Lawrence of Arabia (1962). In between I screened films from France, Germany, the USA and the UK, showing aspects of the war in France, Germany, Italy and Turkey.
Overall, the season was well-received, with many regular followers. The first film – Abel Gance's J'Accuse – was a sell out and although we didn't reach such numbers again, there was always a good audience.
Some films had been restored and were easily available on Blu-ray, but others – especially the lesser-known ones – were more difficult to obtain on DVD. Licensing was also occasionally problematic: G W Pabst's Westfront 1918 I could only obtain from the USA with subtitles, but without the licensing rights. I found the rights owners to be a Swiss company, but with a British office based in Eastbourne.
Can you share specific points to note about war archive footage?
It's a paradox perhaps that the reality of war on film – at least historically – can be conveyed more powerfully through fiction than through actuality. D W Griffith filmed extensively on the western front for his film Hearts of the World, only to discard this footage later as not being dramatic enough and shoot his battle scenes on Salisbury Plain and back home in California.
Some of the most dramatic scenes from the 1916 Battle of the Somme documentary were re-created behind the lines and even today are mistaken for actuality. The graveyard bombardment in Lewis Milestone's All Quiet on the Western Front is still quite an emotionally devastating sequence.
We would have been showing 1917 at the Electric Palace this coming week, but lockdown means we've postponed it. Did you enjoy the film?
In terms of filmmaking, Sam Mendes' 1917 brings us up to date – the long, apparently single, take in the opening sequence really draws you in, although the storyline itself (spoiler alert!) - friendship on the battlefield ending in tragedy and the arrogance and ignorance of the officer class – closely follows a theme that runs through many of the earlier films.
That said, the film is quite spectacular, emotionally involving and beautifully shot by Roger Deakins (a well-deserved Oscar) and certainly ranks as one of the better films on the First World War. I hope the Electric Palace is indeed able to screen it at some point - I'd certainly view it again.
Were you hoping to see 1917 at the Electric Palace?
We had planned on showing it 21st - 24th May 2020.
NOTE: We will now be screening 1917 on 1st - 3rd October 2020.
How to access archive film
If anyone is interested in viewing archive film, many archives now have substantial amounts – but by no means all - of their collections available online which can be viewed for free:
Further reading: