With Jack in the Green celebrations this year taking place online, we're taking a closer look at the rich tapestry of artists that live in the area to share their creations. Bob and Claire Humm are stalwarts of the annual Hastings Jack in the Green May Day weekend events - you may recognise them and their impressive headwear, suits and shoes.
Perhaps you were also lucky enough to enjoy their one-person mini cinema within the Electric Palace screening room a few years ago, when it was a temporary installation during Coastal Currents Festival? Bob has directed a collection of short films, including a series of 'horse' films, which you can see on his website, covering the seasons of the year.
Your artworks have fascinating elements from folklore and mystery, can you tell us more?
Folklore does play a part in some aspects of our work, though is not usually the overarching theme. However, the horse films, particularly John Nag (view the film below), have been influenced to an extent by the tradition of ritual animal disguise common to many cultures. This film explores the idea of dressing up and performance, and how an ordinary person can, without making a conscious decision, transform into something else. When taking on some physical aspect of another creature, in this case a horse skull, it is as if the wearer really does become the other.
Tell us about your filmmaking...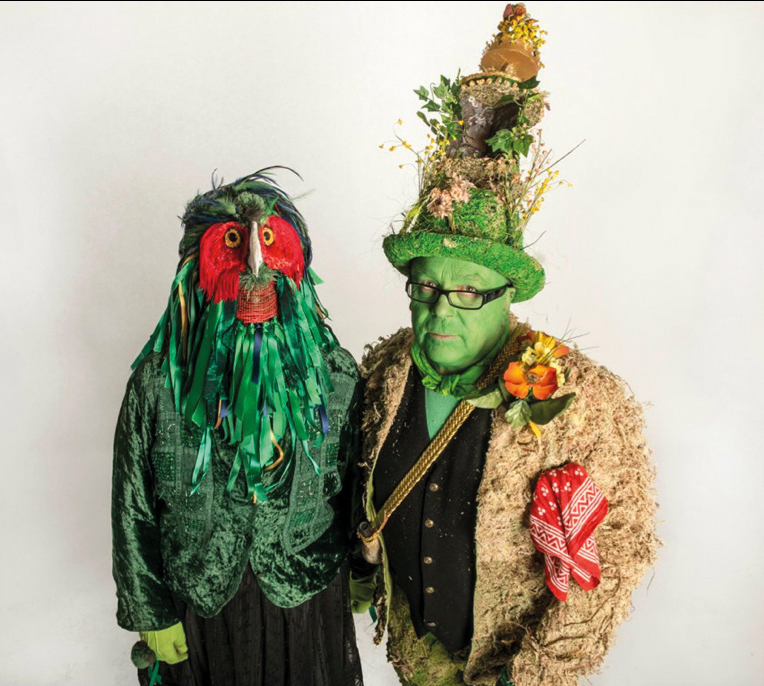 Planning a film is just like planning any artwork. The germ of an idea occurs, then the more you think or talk about it, the more you see parallels and coincidences in things around you, and in what you hear or read.
As the work develops, new ideas occur and others are discarded. I would like the audience to enjoy the films; it is pleasing when people I barely know tell me they have remembered certain things about them. It's very gratifying when people who initially aren't very keen to watch have come back for more!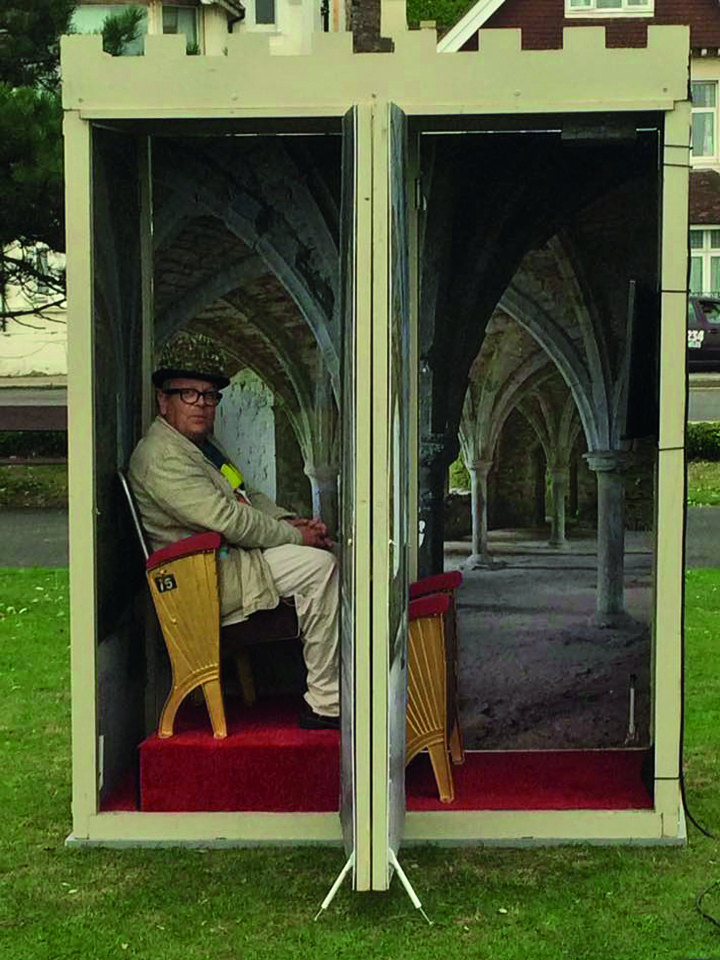 Some projects have developed from things I first produced many years ago, for example the Doors Building (pictured, right). It was part of Root 1066 at West Marina Gardens showing Andrew Kotting's 10'66" version of his film Edith. The idea for films featuring the ventriloquist dummies came from recreating a dummy I made for a performance in the 1970s but which had aged in the meantime. It was interesting to note the tensions that had built up between the dummies in the intervening years.
Can you tell us the story behind your costumes?
Ideas for our costumes come in similar ways to how the films develop. Starting with vague ideas, trying things out, finding bits and pieces to use, collecting and discarding. We sometimes start on costumes soon after Christmas, just to lift our spirits really, but work begun then is very often superseded. Influences on the costumes can come from many sources ranging from the world of fashion to European folk traditions to African tribal ritual. There's no knowing how long anything might take, but we're always just about ready on the day!
What can we look forward to from you in the future?
I am working on a new film which tells a story I wrote to accompany a painting, again, during the 70s. In fact, it tells two stories, one true and the other made up. As with most of my work, fiction is stranger than truth! There are also two delayed films featuring John Nag's horse, plus another 'The Horse Underground'.
'Hastings Traditional Jack in the Green 2020' will take place online, from 1-3 May, in collaboration with Isolation Station Hastings on Facebook. Join in!
Lockdown film highlights galore!
Sign up to our weekly enewsletter to get curated picks of all the film-related entertainment available to you at home.