The Electric Palace is proud to host this third year of the Dear Future Film Festival from 26 - 29 October, the theme of which this year is 'Lost and Found'.
Former director of The Electric Palace, Rebecca E Marshall and the Dear Future team including Clare Whistler and Rachel Pearson, present shorts, features, 'forest bathing', live music, performance, conversation and other small findings along the way.
"We're shining a light on pieces of beauty and everyday strangeness discovered with closer and slower looking. Forgotten or overlooked scraps gathered together to think what can be reused, remade or left behind," says Rebecca.
What's on during the Dear Future Film Festival
Events run from Thursday 26th to Sunday 29th October 2023 at The Electric Palace Cinema.
The Gleaners and I (Les Glaneurs et La Glaneuse)
Thursday 26 October 2023 at 11am
Agnès Varda's touching and inspiring film was made over the course of a year using a hand-held digital camera as she seeks out scavengers across the French countryside.
Scrap
Thursday 26 October 2023 at 7.30pm
Scrap is a love letter to the things we use in our daily lives. This cinematic documentary tells the stories of people who each have a connection to objects that have reached their 'end of life'.
Live Music and Film: Turning the Stones, plus 'I Love This Town'
Friday 27 October at 7.30pm
Fine folk from Chalk Horse Music with projected moving images, plus see Hastings onscreen in Glenn Veness's latest version of I Love This Town.
The Marks We Leave - Forest Bathing workshop
Saturday 28 October at 1.30pm (at Powdermill Wood)
Head to Powdermill Wood to immerse yourself in a guided woodland meditation using the Shinrin Yoku techniques. 12 spaces available.
Book now for Forest Bathing >>
A Year in a Field Plus 'The Marks We Leave'
Saturday 28 October at 7.30pm
A meditation on the passage of time through highlighting nature and the subtle changes of the seasons, plus a live film mix made with clips filmed during the afternoon 'forest bathing' session.
Book now for A Year in a Field >>
Finding Vivian Maier, Plus short film 'Travels from Home'
Sunday 29 October at 11am
See the world through the eyes of a mysterious nanny, who chronicled the lives of the families she worked with through 100,000 secret photos, discovered many years after they were taken.
Book now for Finding Vivien Maier >>
Exhibition open before the screenings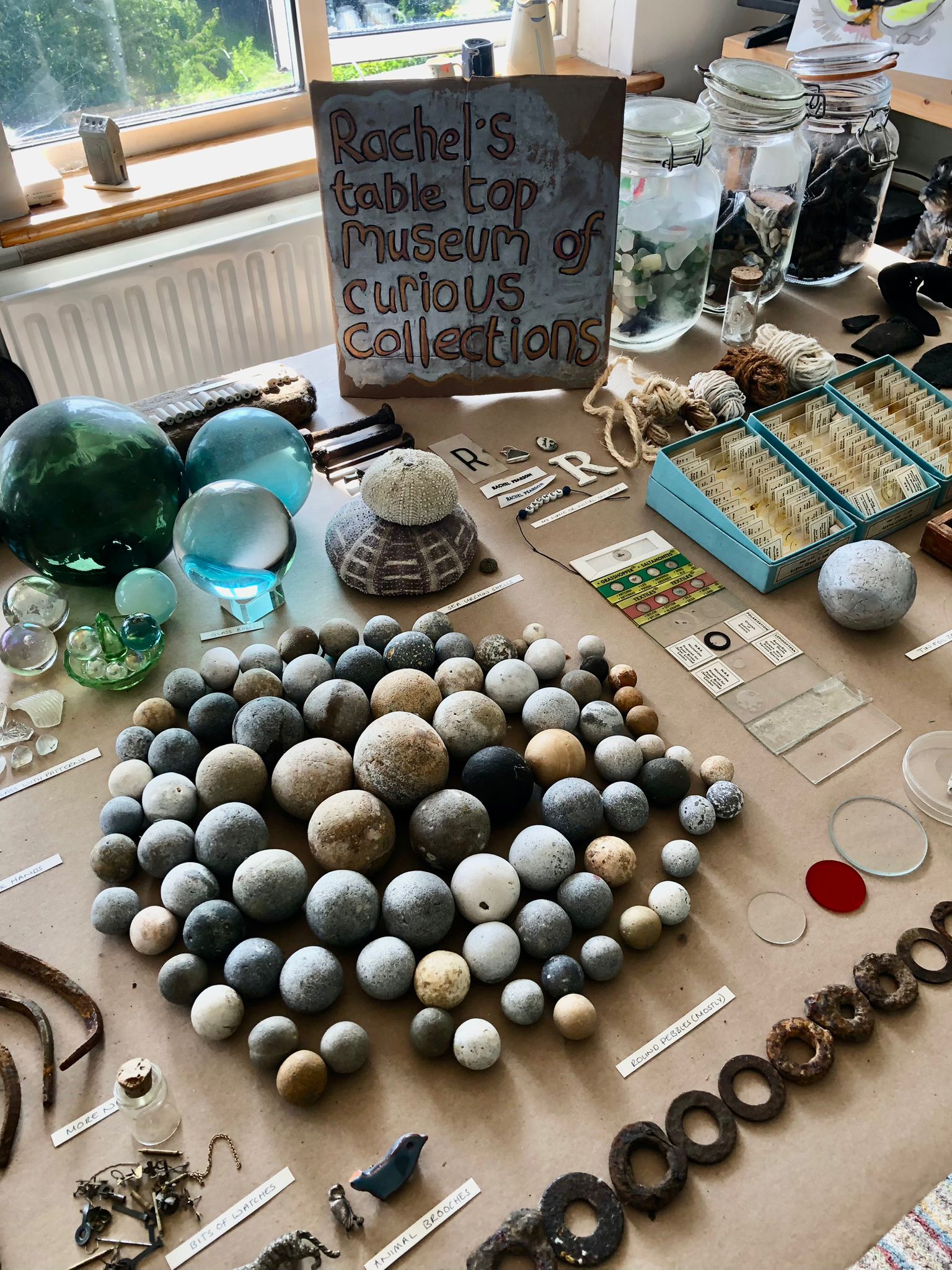 As part of the festival you can enjoy a range of exhibits that will be available to view for half an hour before the start of each film or event, and include:
Rachel's tabletop museum of curious collections
Rachel Pearson shares her personal archaeology of treasured items found mostly through beachcombing and mudlarking.
Rebecca's LOST + FOUND series of collage paintings PLUS an under-stair projection
Ancient Minoan creatures wash up to new findings. What does it all mean?
Clare Whistler poems
Clare will offer five minute interviews to then create 'found' poems about something LOST and give back something FOUND.
About the festival directors
Rebecca E Marshall
Rebecca E Marshall is an artist filmmaker with a PhD in philosophy though the practice of film. Her working process includes the building of the Dear Future Film Library, and its use and re-use in her projects. She likes to plunge into spaces of deep looking, and is endlessly surprised at the extraordinary details this reveals. She is drawn to offbeat stories of everyday life, with a seam of dark humour.
Rebecca co-founded The Electric Palace Cinema, curating a year-round programme of film and film events for more than 20 years. She is a visiting lecturer for the MA documentary department at The London Film School. Her workshops facilitate creative thinking through the practice of film. She loves the sixteenth century essays of Michel De Montaigne because there are some things about people that never change. She also enjoys investigating fringe science projects and trying to understand anything about quantum physics.
Rachel Pearson
Rachel Pearson is a creative person preoccupied by contemplations on how to connect people, ideas and objects in exciting and different ways. She has a notebook by her bed so she can write down strange thoughts that strike at night. Rachel is a co-founder of The Electric Palace Cinema, where she inspired innovative film events, and her dedication brought them to life year-round for over 16 years. She is skilled at grass-roots project management and forging large scale community development projects.
Rachel works as a practising jewellery maker using extraordinary found objects such as bones, metal and stones from both river and sea shorelines. She is a registered Mudlarker with a fascination for all things lost and found and their peculiar stories.
Clare Whistler
Clare makes work in performance, site-specific work in the landscape, poetry, music and visual art. Her international career as a dancer, choreographer and director has included fifteen years working in opera and education and community projects. She has been artist in residence at many locations, including The Library of Water, Iceland, Banff in Canada, and at the Centre of the History of Emotions, Queen Mary University, London (Leverhulme), where she produced her Tear Treasury.
With visual artist Charlotte Still Clare is the creator/collaborator of WATERWEEK, an annual event based in the Pevensey Levels in East Sussex. She is a member of the Cuckmere & Pevensey Levels Catchment Partnership for water management. She also teaches on local creative writing courses, and on the liberal arts programme at Stanford University. Clare co-runs eco-poetics courses with Kay Syrad at the environmental art gallery ONCA in Brighton, Knepp Wildland and Aldeburgh Poetry Festival.
Clare has created a poem to mark the event:
These Small Findings
Scavenged, gleaned, selected, discovered, hunted, forgotten,
Rediscovered

What might be invisible
Bringing us towards connection

We have the wondering
We have the gifts of being lost to guide us

Join us for the small things that bind us
For Dear Future 2023 - Clare Whistler
Keep up to date with all of the Electric Palace news and events via our enewsletter: