The brainchild of film historian Dr Adrian Smith, The Cult Film Club was established in Eastbourne in 2018 with entertaining screenings of films including Evil Dead II, The Warriors, Labyrinth, and Heathers, before lockdown intervened.
This new EXTREME version of the club will see The Cult Film Club bringing a mix of films to the Electric Palace that are shocking, controversial, or just extremely silly. With an emphasis on crowd-pleasing, a good time is guaranteed for all brave enough to join us.
Meet Dr Adrian Smith
"Since being corrupted as a child by late-night Hammer Horror and illicit VHS rentals, I've always had a love for offbeat, cult and strange films, and I'm excited to be able to share this love with the discerning filmgoers of Hastings," says Dr Adrian Smith, a film historian and lecturer at the University of Sussex. He founded The Cult Film Club and co-hosts two film podcasts (Second Features and Wild, Wild Podcast).
"The Cult Film Club EXTREME will be offering up some extremely bloody Samurai action, gooey eighties horror, operatic Italian murders, wild animals on the loose, and much more," says Adrian.
"Along with my personal introduction, each film will be preceded with some classic commercials and movie trailers (remember Pearl and Dean?) and other retro goodies. Bring your friends! And a sick bag!" says Adrian.
Night of the Lepus: Sunday 17 April
The Cult Film Club EXTREME series starts with "one of the most ridiculous films ever conceived" - Night of the Lepus (pictured, above):
Something is rotten in the heart of Arizona. Rabbits are breeding out of control, and it's up to science to come to the rescue. Several chemical injections later, what should have been a straightforward bit of rabbit culling turns into a bunny nightmare as the lovable, crop-munching pests grow to giant size!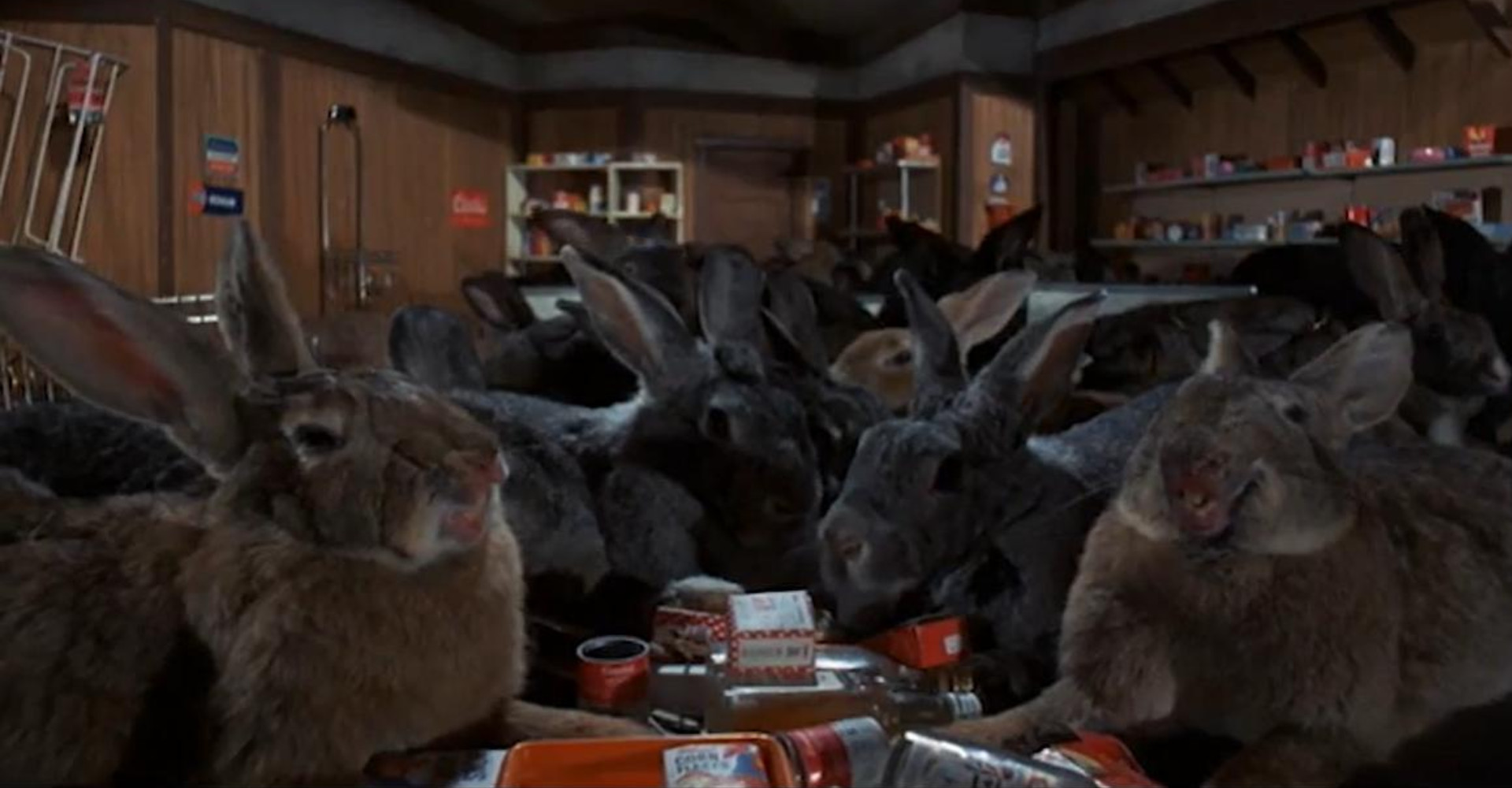 Based on the now obscure Australian science fiction novel The Year of the Angry Rabbit, Night of the Lepus sees Hollywood stars Janet Leigh, DeForest Kelley and Stuart Whitman fighting for their lives, and their careers, in a film often considered one of the most ridiculous ever conceived.
"EXTREMEly bad" - Dr Adrian Smith, The Cult Film Club
Book now for Night of the Lepus >>
The Cult Film Club - EXTREME will run every two months and other films currently being considered for the series include Inseminoid, Roar, Shogun Assassin, Society, Bride of Reanimator, Deep Red (Profundo Rosso) and The Sweeney.
We are very excited about this new club and can't wait to welcome you to our upcoming screenings!
Stay up to date with all the activities and screenings at the cinema: