Formative Film series - chosen by special guest musician, Peter Bruntnell, who will perform live
Withnail & I, plus live music from Peter Bruntnell
The finest, funniest cult film known to humanity! A perfect, sheer delight of a Formative Film choice from acclaimed UK singer-songwriter, Peter Bruntnell, who will play live before the screening.
Director:
Bruce Robinson
Cast includes:
Richard E Grant, Richard Griffiths, Paul McGann, Ralph Brown
Formative film series
with short live music set from acclaimed singer songwriter Peter Bruntnell
107 mins, plus interval and 20 min gig / 1987 / UK
Our Formative Films series invites special guests to present a film that was influential to their lives and to share the reasons for their choice. The series continues this season with acclaimed singer songwriter, Peter Bruntnell, choosing Withnail & I. It's the perfect film to see on a blustery Friday night in a cosy cinema that has its very own bar!
"Even though it's a bit cliched — I would imagine it would be a favourite for a lot of people — I still can't resist picking this film. I love the characters, the reflectiveness, the bit when Paul McGann goes for a walk on the first morning after having arrived at the cottage, the ridiculous Withnail, oh and so many random quotes! Tractor approaching!"
We're delighted to welcome Peter Bruntnell to play a short live set of his beautiful songs before the screening.
About Withnail & I
The finest cult film known to humanity!
London, 1969 - two 'resting' (unemployed and unemployable) actors, Withnail and Marwood, fed up with damp, cold, piles of washing-up, mad drug dealers and psychotic Irishmen, decide to leave their squalid Camden flat for an idyllic holiday in the countryside, courtesy of Withnail's uncle Monty's country cottage.But when they get there, it rains non-stop, there's no food, and their basic survival skills turn out to be somewhat limited. Matters are not helped by the arrival of Uncle Monty, who shows an uncomfortably keen interest in Marwood.

Perfectly cast with career-defining roles for Richard E. Grant, Paul McGann, Richard Griffiths and Ralph Brown and crammed with irresistibly quotable dialogue, Withnail and I is a sheer delight, even on the umpteenth viewing.
"The best British comedy ever made? Possibly. A masterpiece? Unquestionably " - Ali Catterall , Film4

All tickets £10
About Peter Bruntnell:
Rolling Stone once declared Peter Bruntnell (pictured, right) to be "one of England's best kept musical secrets." England has successfully managed to keep Peter Bruntnell a secret for all this time, even from itself. "If we lived in a just world, Peter Bruntnell would by now be in the middle of his third or fourth global arena tour, his biggest worry working out how to courier his latest armful of Grammy awards back to the UK so his butler could have them installed in the west wing of his mansion by the time he got home," said a feature in The Guardian in 2016, intent on letting the cat out of the bag.
Alas, we don't live in a just world and Peter Bruntnell is still having to get by without a butler, but he is lauded by us, and the likes of Kathleen Edwards, The Delines, Rumer, various members of R.E.M, Son Volt, and many more.
You may have been lucky enough to catch Peter Bruntnell when he played at the Electric Palace back in 2015 as part of a trio of equally superb calibre musicians (pictured below) - Neil Halstead of Slowdive and Mojave 3, and Danny George Wilson from Grand Drive and Danny and the Champions of the World. Join us again for another night of very fine songs and company.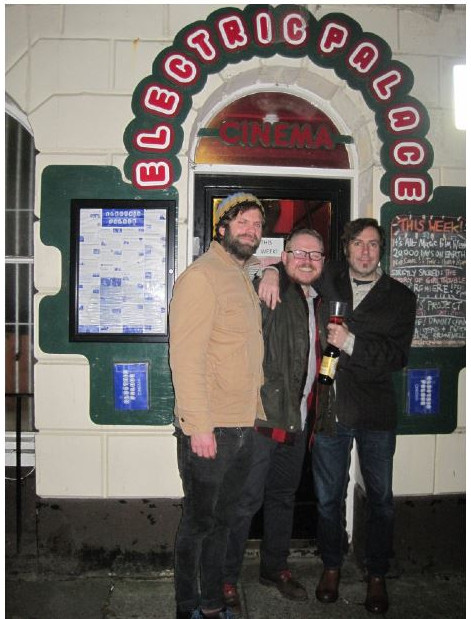 Praise for Peter's latest album, Journey To The Sun:
"Somehow, some way, this cult and infinitely class songwriter must get his due wider recognition" ★★★★
MOJO
"I'm getting tired of saying this: He's brilliant"
★★★★★ SCOTTISH DAILY EXPRESS
"With Journey to the Sun, the man whose songs NME once noted should be placed on school curriculums has done it again." ★★★★ IRISH TIMES
"Consistent genius" - 9/10
AMERICANA UK
"He is Britain's best kept secret for whom the word 'underappreciated' was surely invented"★★★★★, THE SUN
7/10 - UNCUT
8.5/10 - HI-FI+ MAGAZINE
Fabulous Christmas parties at the cinema!
Book your work do or invite family and friends for a very special Christmas treat at our bijou cinema in the heart of Hastings Old Town. Book your party now.
How you can support the Electric Palace:
Support us on social media by sharing our posts and events
Thank you.